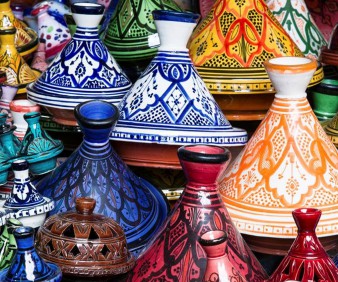 The most popular small group tour in Morocco is this itinerary from Spain to Morocco featuring the imperial Cities from Tangier to Marrakech. With a powerful Moroccan history and culture thousands of year old, exceptional social diversity, and immeasurable intellectual depth, Morocco's distinctive nature enriches all who experience it. You are just 45 mn ferry cross from Tarifa to Tangier.
DAY TO DAY ITINERARY
Day 1: Tangier - Chefchaouen - Fez
Take the ferry to Tangier in the morning and proceed to Fez. The first mountain town you will visit will be the blue town of Chefchaouen. Nestled in the Rif mountains, the is one of the most picturesque white towns of the Mediterranean and a UNESCO world heritage site. Proceed to Fez where your local guide will be at your disposal to give a great historic tour of Fez El Jadid and the Jewish quarter. The afternoon will be devoted to the synagogue. Nearby the community center is Roben Ben Sadoun Synagogue. Built-in the 1920's, it is decorated with exquisite plaster carving reminiscent of the decoration of traditional mosques and madrasas. It is large by the standards of Morocco, where every rich Jewish family desired its own synagogue. Walk in the afternoon to the Medina of Fez and spend the full afternoon in the souks of this enticing Medina.
Day 2: Fez
Walk to the Medina to explore the Andalusia part of it. Undeniably fascinating, Fez stimulates the senses with its haunting yet beautiful sounds, visual splendor, and evocative smells. The most ancient imperial capitals and the most complete medieval city of the Islamic world, Fez is reminiscent of a city suspended in time, unfazed by the constantly evolving world outsides its walls, owing nothing to the Western world save electricity. Time spent in Fez will reveal much about the sophistication of the Moroccan artisan, providing an unparalleled learning experience to those who cross its path. Your full-day will be spent visiting the Medina and its souks and Bazaars
Day 3: Fez - Moulay Idriss - Volubilis - Tangier
Take off after breakfast to the holy city of Moulay Idris walking tour in one of the oldest Arab towns, nearby you will explore the Roman site of Volubilis then continue on to Tangier. Lunch will be on the road. We will drop you off at the Tangier Port to catch your ferry to cross back to Spain. End of our services.
What is included:
Services of local guides
Transportation in Deluxe vehicles
Breakfast, and dinner daily
Hotel taxes and service charges
2 night accommodation in 4 star hotels
Hotels Used:
| DEPARTING | FINISHING | SEATS | TOTAL IN USD | |
| --- | --- | --- | --- | --- |
| Fri 17 Apr 2020 | Mon 20 Apr 2020 | Available | $465 | INQUIRY |
| Sat 18 Apr 2020 | Tue 21 Apr 2020 | Available | $465 | INQUIRY |
| Sun 19 Apr 2020 | Wed 22 Apr 2020 | Available | $465 | INQUIRY |
| Mon 20 Apr 2020 | Thu 23 Apr 2020 | Available | $465 | INQUIRY |
| Tue 21 Apr 2020 | Fri 24 Apr 2020 | Available | $465 | INQUIRY |
| Wed 22 Apr 2020 | Sat 25 Apr 2020 | Available | $465 | INQUIRY |
| Thu 23 Apr 2020 | Sun 26 Apr 2020 | Available | $465 | INQUIRY |
| Fri 24 Apr 2020 | Mon 27 Apr 2020 | Available | $465 | INQUIRY |
| Sat 25 Apr 2020 | Tue 28 Apr 2020 | Available | $465 | INQUIRY |
| Sun 26 Apr 2020 | Wed 29 Apr 2020 | Available | $465 | INQUIRY |
| Mon 27 Apr 2020 | Thu 30 Apr 2020 | Available | $465 | INQUIRY |
| Tue 28 Apr 2020 | Fri 1 May 2020 | Available | $465 | INQUIRY |
| Wed 29 Apr 2020 | Sat 2 May 2020 | Available | $465 | INQUIRY |
| Thu 30 Apr 2020 | Sun 3 May 2020 | Available | $465 | INQUIRY |
| Fri 1 May 2020 | Mon 4 May 2020 | Available | $465 | INQUIRY |
| Sat 2 May 2020 | Tue 5 May 2020 | Available | $465 | INQUIRY |
| Sun 3 May 2020 | Wed 6 May 2020 | Available | $465 | INQUIRY |
| Mon 4 May 2020 | Thu 7 May 2020 | Available | $465 | INQUIRY |
| Tue 5 May 2020 | Fri 8 May 2020 | Available | $465 | INQUIRY |
| Wed 6 May 2020 | Sat 9 May 2020 | Available | $465 | INQUIRY |
| Thu 7 May 2020 | Sun 10 May 2020 | Available | $465 | INQUIRY |
| Fri 8 May 2020 | Mon 11 May 2020 | Available | $465 | INQUIRY |
| Sat 9 May 2020 | Tue 12 May 2020 | Available | $465 | INQUIRY |
| Sun 10 May 2020 | Wed 13 May 2020 | Available | $465 | INQUIRY |
| Mon 11 May 2020 | Thu 14 May 2020 | Available | $465 | INQUIRY |
| Tue 12 May 2020 | Fri 15 May 2020 | Available | $465 | INQUIRY |
| Wed 13 May 2020 | Sat 16 May 2020 | Available | $465 | INQUIRY |
| Thu 14 May 2020 | Sun 17 May 2020 | Available | $465 | INQUIRY |
| Fri 15 May 2020 | Mon 18 May 2020 | Available | $465 | INQUIRY |
| Sat 16 May 2020 | Tue 19 May 2020 | Available | $465 | INQUIRY |
| Sun 17 May 2020 | Wed 20 May 2020 | Available | $465 | INQUIRY |
| Mon 18 May 2020 | Thu 21 May 2020 | Available | $465 | INQUIRY |
| Tue 19 May 2020 | Fri 22 May 2020 | Available | $465 | INQUIRY |
| Wed 20 May 2020 | Sat 23 May 2020 | Available | $465 | INQUIRY |
| Thu 21 May 2020 | Sun 24 May 2020 | Available | $465 | INQUIRY |
| Fri 22 May 2020 | Mon 25 May 2020 | Available | $465 | INQUIRY |
| Sat 23 May 2020 | Tue 26 May 2020 | Available | $465 | INQUIRY |
| Sun 24 May 2020 | Wed 27 May 2020 | Available | $465 | INQUIRY |
| Mon 25 May 2020 | Thu 28 May 2020 | Available | $465 | INQUIRY |
| Tue 26 May 2020 | Fri 29 May 2020 | Available | $465 | INQUIRY |
| Wed 27 May 2020 | Sat 30 May 2020 | Available | $465 | INQUIRY |
| Thu 28 May 2020 | Sun 31 May 2020 | Available | $465 | INQUIRY |
| Fri 29 May 2020 | Mon 1 Jun 2020 | Available | $465 | INQUIRY |
| Sat 30 May 2020 | Tue 2 Jun 2020 | Available | $465 | INQUIRY |
| Sun 31 May 2020 | Wed 3 Jun 2020 | Available | $465 | INQUIRY |
| Mon 1 Jun 2020 | Thu 4 Jun 2020 | Available | $465 | INQUIRY |
| Tue 2 Jun 2020 | Fri 5 Jun 2020 | Available | $465 | INQUIRY |
| Wed 3 Jun 2020 | Sat 6 Jun 2020 | Available | $465 | INQUIRY |
| Thu 4 Jun 2020 | Sun 7 Jun 2020 | Available | $465 | INQUIRY |
| Fri 5 Jun 2020 | Mon 8 Jun 2020 | Available | $465 | INQUIRY |
| Sat 6 Jun 2020 | Tue 9 Jun 2020 | Available | $465 | INQUIRY |
| Sun 7 Jun 2020 | Wed 10 Jun 2020 | Available | $465 | INQUIRY |
| Mon 8 Jun 2020 | Thu 11 Jun 2020 | Available | $465 | INQUIRY |
| Tue 9 Jun 2020 | Fri 12 Jun 2020 | Available | $465 | INQUIRY |
| Wed 10 Jun 2020 | Sat 13 Jun 2020 | Available | $465 | INQUIRY |
| Thu 11 Jun 2020 | Sun 14 Jun 2020 | Available | $465 | INQUIRY |
| Fri 12 Jun 2020 | Mon 15 Jun 2020 | Available | $465 | INQUIRY |
| Sat 13 Jun 2020 | Tue 16 Jun 2020 | Available | $465 | INQUIRY |
| Sun 14 Jun 2020 | Wed 17 Jun 2020 | Available | $465 | INQUIRY |
| Mon 15 Jun 2020 | Thu 18 Jun 2020 | Available | $465 | INQUIRY |
| Tue 16 Jun 2020 | Fri 19 Jun 2020 | Available | $465 | INQUIRY |
| Wed 17 Jun 2020 | Sat 20 Jun 2020 | Available | $465 | INQUIRY |
| Thu 18 Jun 2020 | Sun 21 Jun 2020 | Available | $465 | INQUIRY |
| Fri 19 Jun 2020 | Mon 22 Jun 2020 | Available | $465 | INQUIRY |
| Sat 20 Jun 2020 | Tue 23 Jun 2020 | Available | $465 | INQUIRY |
| Sun 21 Jun 2020 | Wed 24 Jun 2020 | Available | $465 | INQUIRY |
| Mon 22 Jun 2020 | Thu 25 Jun 2020 | Available | $465 | INQUIRY |
| Tue 23 Jun 2020 | Fri 26 Jun 2020 | Available | $465 | INQUIRY |
| Wed 24 Jun 2020 | Sat 27 Jun 2020 | Available | $465 | INQUIRY |
| Thu 25 Jun 2020 | Sun 28 Jun 2020 | Available | $465 | INQUIRY |
| Fri 26 Jun 2020 | Mon 29 Jun 2020 | Available | $465 | INQUIRY |
| Sat 27 Jun 2020 | Tue 30 Jun 2020 | Available | $465 | INQUIRY |
| Sun 28 Jun 2020 | Wed 1 Jul 2020 | Available | $465 | INQUIRY |
| Mon 29 Jun 2020 | Thu 2 Jul 2020 | Available | $465 | INQUIRY |
| Tue 30 Jun 2020 | Fri 3 Jul 2020 | Available | $465 | INQUIRY |
| Wed 1 Jul 2020 | Sat 4 Jul 2020 | Available | $465 | INQUIRY |
| Thu 2 Jul 2020 | Sun 5 Jul 2020 | Available | $465 | INQUIRY |
| Fri 3 Jul 2020 | Mon 6 Jul 2020 | Available | $465 | INQUIRY |
| Sat 4 Jul 2020 | Tue 7 Jul 2020 | Available | $465 | INQUIRY |
| Sun 5 Jul 2020 | Wed 8 Jul 2020 | Available | $465 | INQUIRY |
| Mon 6 Jul 2020 | Thu 9 Jul 2020 | Available | $465 | INQUIRY |
| Tue 7 Jul 2020 | Fri 10 Jul 2020 | Available | $465 | INQUIRY |
| Wed 8 Jul 2020 | Sat 11 Jul 2020 | Available | $465 | INQUIRY |
| Thu 9 Jul 2020 | Sun 12 Jul 2020 | Available | $465 | INQUIRY |
| Fri 10 Jul 2020 | Mon 13 Jul 2020 | Available | $465 | INQUIRY |
| Sat 11 Jul 2020 | Tue 14 Jul 2020 | Available | $465 | INQUIRY |
| Sun 12 Jul 2020 | Wed 15 Jul 2020 | Available | $465 | INQUIRY |
| Mon 13 Jul 2020 | Thu 16 Jul 2020 | Available | $465 | INQUIRY |
| Tue 14 Jul 2020 | Fri 17 Jul 2020 | Available | $465 | INQUIRY |
| Wed 15 Jul 2020 | Sat 18 Jul 2020 | Available | $465 | INQUIRY |
| Thu 16 Jul 2020 | Sun 19 Jul 2020 | Available | $465 | INQUIRY |
| Fri 17 Jul 2020 | Mon 20 Jul 2020 | Available | $465 | INQUIRY |
| Sat 18 Jul 2020 | Tue 21 Jul 2020 | Available | $465 | INQUIRY |
| Sun 19 Jul 2020 | Wed 22 Jul 2020 | Available | $465 | INQUIRY |
| Mon 20 Jul 2020 | Thu 23 Jul 2020 | Available | $465 | INQUIRY |
| Tue 21 Jul 2020 | Fri 24 Jul 2020 | Available | $465 | INQUIRY |
| Wed 22 Jul 2020 | Sat 25 Jul 2020 | Available | $465 | INQUIRY |
| Thu 23 Jul 2020 | Sun 26 Jul 2020 | Available | $465 | INQUIRY |
| Fri 24 Jul 2020 | Mon 27 Jul 2020 | Available | $465 | INQUIRY |
| Sat 25 Jul 2020 | Tue 28 Jul 2020 | Available | $465 | INQUIRY |
| Sun 26 Jul 2020 | Wed 29 Jul 2020 | Available | $465 | INQUIRY |
| Mon 27 Jul 2020 | Thu 30 Jul 2020 | Available | $465 | INQUIRY |
| Tue 28 Jul 2020 | Fri 31 Jul 2020 | Available | $465 | INQUIRY |
| Wed 29 Jul 2020 | Sat 1 Aug 2020 | Available | $465 | INQUIRY |
| Thu 30 Jul 2020 | Sun 2 Aug 2020 | Available | $465 | INQUIRY |
| Fri 31 Jul 2020 | Mon 3 Aug 2020 | Available | $465 | INQUIRY |
| Sat 1 Aug 2020 | Tue 4 Aug 2020 | Available | $465 | INQUIRY |
| Sun 2 Aug 2020 | Wed 5 Aug 2020 | Available | $465 | INQUIRY |
| Mon 3 Aug 2020 | Thu 6 Aug 2020 | Available | $465 | INQUIRY |
| Tue 4 Aug 2020 | Fri 7 Aug 2020 | Available | $465 | INQUIRY |
| Wed 5 Aug 2020 | Sat 8 Aug 2020 | Available | $465 | INQUIRY |
| Thu 6 Aug 2020 | Sun 9 Aug 2020 | Available | $465 | INQUIRY |
| Fri 7 Aug 2020 | Mon 10 Aug 2020 | Available | $465 | INQUIRY |
| Sat 8 Aug 2020 | Tue 11 Aug 2020 | Available | $465 | INQUIRY |
| Sun 9 Aug 2020 | Wed 12 Aug 2020 | Available | $465 | INQUIRY |
| Mon 10 Aug 2020 | Thu 13 Aug 2020 | Available | $465 | INQUIRY |
| Tue 11 Aug 2020 | Fri 14 Aug 2020 | Available | $465 | INQUIRY |
| Wed 12 Aug 2020 | Sat 15 Aug 2020 | Available | $465 | INQUIRY |
| Thu 13 Aug 2020 | Sun 16 Aug 2020 | Available | $465 | INQUIRY |
| Fri 14 Aug 2020 | Mon 17 Aug 2020 | Available | $465 | INQUIRY |
| Sat 15 Aug 2020 | Tue 18 Aug 2020 | Available | $465 | INQUIRY |
| Sun 16 Aug 2020 | Wed 19 Aug 2020 | Available | $465 | INQUIRY |
| Mon 17 Aug 2020 | Thu 20 Aug 2020 | Available | $465 | INQUIRY |
| Tue 18 Aug 2020 | Fri 21 Aug 2020 | Available | $465 | INQUIRY |
| Wed 19 Aug 2020 | Sat 22 Aug 2020 | Available | $465 | INQUIRY |
| Thu 20 Aug 2020 | Sun 23 Aug 2020 | Available | $465 | INQUIRY |
| Fri 21 Aug 2020 | Mon 24 Aug 2020 | Available | $465 | INQUIRY |
| Sat 22 Aug 2020 | Tue 25 Aug 2020 | Available | $465 | INQUIRY |
| Sun 23 Aug 2020 | Wed 26 Aug 2020 | Available | $465 | INQUIRY |
| Mon 24 Aug 2020 | Thu 27 Aug 2020 | Available | $465 | INQUIRY |
| Tue 25 Aug 2020 | Fri 28 Aug 2020 | Available | $465 | INQUIRY |
| Wed 26 Aug 2020 | Sat 29 Aug 2020 | Available | $465 | INQUIRY |
| Thu 27 Aug 2020 | Sun 30 Aug 2020 | Available | $465 | INQUIRY |
| Fri 28 Aug 2020 | Mon 31 Aug 2020 | Available | $465 | INQUIRY |
| Sat 29 Aug 2020 | Tue 1 Sep 2020 | Available | $465 | INQUIRY |
| Sun 30 Aug 2020 | Wed 2 Sep 2020 | Available | $465 | INQUIRY |
| Mon 31 Aug 2020 | Thu 3 Sep 2020 | Available | $465 | INQUIRY |
| Tue 1 Sep 2020 | Fri 4 Sep 2020 | Available | $465 | INQUIRY |
| Wed 2 Sep 2020 | Sat 5 Sep 2020 | Available | $465 | INQUIRY |
| Thu 3 Sep 2020 | Sun 6 Sep 2020 | Available | $465 | INQUIRY |
| Fri 4 Sep 2020 | Mon 7 Sep 2020 | Available | $465 | INQUIRY |
| Sat 5 Sep 2020 | Tue 8 Sep 2020 | Available | $465 | INQUIRY |
| Sun 6 Sep 2020 | Wed 9 Sep 2020 | Available | $465 | INQUIRY |
| Mon 7 Sep 2020 | Thu 10 Sep 2020 | Available | $465 | INQUIRY |
| Tue 8 Sep 2020 | Fri 11 Sep 2020 | Available | $465 | INQUIRY |
| Wed 9 Sep 2020 | Sat 12 Sep 2020 | Available | $465 | INQUIRY |
| Thu 10 Sep 2020 | Sun 13 Sep 2020 | Available | $465 | INQUIRY |
| Fri 11 Sep 2020 | Mon 14 Sep 2020 | Available | $465 | INQUIRY |
| Sat 12 Sep 2020 | Tue 15 Sep 2020 | Available | $465 | INQUIRY |
| Sun 13 Sep 2020 | Wed 16 Sep 2020 | Available | $465 | INQUIRY |
| Mon 14 Sep 2020 | Thu 17 Sep 2020 | Available | $465 | INQUIRY |
| Tue 15 Sep 2020 | Fri 18 Sep 2020 | Available | $465 | INQUIRY |
| Wed 16 Sep 2020 | Sat 19 Sep 2020 | Available | $465 | INQUIRY |
| Thu 17 Sep 2020 | Sun 20 Sep 2020 | Available | $465 | INQUIRY |
| Fri 18 Sep 2020 | Mon 21 Sep 2020 | Available | $465 | INQUIRY |
| Sat 19 Sep 2020 | Tue 22 Sep 2020 | Available | $465 | INQUIRY |
| Sun 20 Sep 2020 | Wed 23 Sep 2020 | Available | $465 | INQUIRY |
| Mon 21 Sep 2020 | Thu 24 Sep 2020 | Available | $465 | INQUIRY |
| Tue 22 Sep 2020 | Fri 25 Sep 2020 | Available | $465 | INQUIRY |
| Wed 23 Sep 2020 | Sat 26 Sep 2020 | Available | $465 | INQUIRY |
| Thu 24 Sep 2020 | Sun 27 Sep 2020 | Available | $465 | INQUIRY |
| Fri 25 Sep 2020 | Mon 28 Sep 2020 | Available | $465 | INQUIRY |
| Sat 26 Sep 2020 | Tue 29 Sep 2020 | Available | $465 | INQUIRY |
| Sun 27 Sep 2020 | Wed 30 Sep 2020 | Available | $465 | INQUIRY |
| Mon 28 Sep 2020 | Thu 1 Oct 2020 | Available | $465 | INQUIRY |
| Tue 29 Sep 2020 | Fri 2 Oct 2020 | Available | $465 | INQUIRY |
| Wed 30 Sep 2020 | Sat 3 Oct 2020 | Available | $465 | INQUIRY |
| Thu 1 Oct 2020 | Sun 4 Oct 2020 | Available | $465 | INQUIRY |
| Fri 2 Oct 2020 | Mon 5 Oct 2020 | Available | $465 | INQUIRY |
| Sat 3 Oct 2020 | Tue 6 Oct 2020 | Available | $465 | INQUIRY |
| Sun 4 Oct 2020 | Wed 7 Oct 2020 | Available | $465 | INQUIRY |
| Mon 5 Oct 2020 | Thu 8 Oct 2020 | Available | $465 | INQUIRY |
| Tue 6 Oct 2020 | Fri 9 Oct 2020 | Available | $465 | INQUIRY |
| Wed 7 Oct 2020 | Sat 10 Oct 2020 | Available | $465 | INQUIRY |
| Thu 8 Oct 2020 | Sun 11 Oct 2020 | Available | $465 | INQUIRY |
| Fri 9 Oct 2020 | Mon 12 Oct 2020 | Available | $465 | INQUIRY |
| Sat 10 Oct 2020 | Tue 13 Oct 2020 | Available | $465 | INQUIRY |
| Sun 11 Oct 2020 | Wed 14 Oct 2020 | Available | $465 | INQUIRY |
| Mon 12 Oct 2020 | Thu 15 Oct 2020 | Available | $465 | INQUIRY |
| Tue 13 Oct 2020 | Fri 16 Oct 2020 | Available | $465 | INQUIRY |
| Wed 14 Oct 2020 | Sat 17 Oct 2020 | Available | $465 | INQUIRY |
| Thu 15 Oct 2020 | Sun 18 Oct 2020 | Available | $465 | INQUIRY |
| Fri 16 Oct 2020 | Mon 19 Oct 2020 | Available | $465 | INQUIRY |
| Sat 17 Oct 2020 | Tue 20 Oct 2020 | Available | $465 | INQUIRY |
| Sun 18 Oct 2020 | Wed 21 Oct 2020 | Available | $465 | INQUIRY |
| Mon 19 Oct 2020 | Thu 22 Oct 2020 | Available | $465 | INQUIRY |
| Tue 20 Oct 2020 | Fri 23 Oct 2020 | Available | $465 | INQUIRY |
| Wed 21 Oct 2020 | Sat 24 Oct 2020 | Available | $465 | INQUIRY |
| Thu 22 Oct 2020 | Sun 25 Oct 2020 | Available | $465 | INQUIRY |
| Fri 23 Oct 2020 | Mon 26 Oct 2020 | Available | $465 | INQUIRY |
| Sat 24 Oct 2020 | Tue 27 Oct 2020 | Available | $465 | INQUIRY |
| Sun 25 Oct 2020 | Wed 28 Oct 2020 | Available | $465 | INQUIRY |
| Mon 26 Oct 2020 | Thu 29 Oct 2020 | Available | $465 | INQUIRY |
| Tue 27 Oct 2020 | Fri 30 Oct 2020 | Available | $465 | INQUIRY |
| Wed 28 Oct 2020 | Sat 31 Oct 2020 | Available | $465 | INQUIRY |
| Thu 29 Oct 2020 | Sun 1 Nov 2020 | Available | $465 | INQUIRY |
| Fri 30 Oct 2020 | Mon 2 Nov 2020 | Available | $465 | INQUIRY |
| Sat 31 Oct 2020 | Tue 3 Nov 2020 | Available | $465 | INQUIRY |
| Sun 1 Nov 2020 | Wed 4 Nov 2020 | Available | $465 | INQUIRY |
| Mon 2 Nov 2020 | Thu 5 Nov 2020 | Available | $465 | INQUIRY |
| Tue 3 Nov 2020 | Fri 6 Nov 2020 | Available | $465 | INQUIRY |
| Wed 4 Nov 2020 | Sat 7 Nov 2020 | Available | $465 | INQUIRY |
| Thu 5 Nov 2020 | Sun 8 Nov 2020 | Available | $465 | INQUIRY |
| Fri 6 Nov 2020 | Mon 9 Nov 2020 | Available | $465 | INQUIRY |
| Sat 7 Nov 2020 | Tue 10 Nov 2020 | Available | $465 | INQUIRY |
| Sun 8 Nov 2020 | Wed 11 Nov 2020 | Available | $465 | INQUIRY |
| Mon 9 Nov 2020 | Thu 12 Nov 2020 | Available | $465 | INQUIRY |
| Tue 10 Nov 2020 | Fri 13 Nov 2020 | Available | $465 | INQUIRY |
| Wed 11 Nov 2020 | Sat 14 Nov 2020 | Available | $465 | INQUIRY |
| Thu 12 Nov 2020 | Sun 15 Nov 2020 | Available | $465 | INQUIRY |
| Fri 13 Nov 2020 | Mon 16 Nov 2020 | Available | $465 | INQUIRY |
| Sat 14 Nov 2020 | Tue 17 Nov 2020 | Available | $465 | INQUIRY |
| Sun 15 Nov 2020 | Wed 18 Nov 2020 | Available | $465 | INQUIRY |
| Mon 16 Nov 2020 | Thu 19 Nov 2020 | Available | $465 | INQUIRY |
| Tue 17 Nov 2020 | Fri 20 Nov 2020 | Available | $465 | INQUIRY |
| Wed 18 Nov 2020 | Sat 21 Nov 2020 | Available | $465 | INQUIRY |
| Thu 19 Nov 2020 | Sun 22 Nov 2020 | Available | $465 | INQUIRY |
| Fri 20 Nov 2020 | Mon 23 Nov 2020 | Available | $465 | INQUIRY |
| Sat 21 Nov 2020 | Tue 24 Nov 2020 | Available | $465 | INQUIRY |
| Sun 22 Nov 2020 | Wed 25 Nov 2020 | Available | $465 | INQUIRY |
| Mon 23 Nov 2020 | Thu 26 Nov 2020 | Available | $465 | INQUIRY |
| Tue 24 Nov 2020 | Fri 27 Nov 2020 | Available | $465 | INQUIRY |
| Wed 25 Nov 2020 | Sat 28 Nov 2020 | Available | $465 | INQUIRY |
| Thu 26 Nov 2020 | Sun 29 Nov 2020 | Available | $465 | INQUIRY |
| Fri 27 Nov 2020 | Mon 30 Nov 2020 | Available | $465 | INQUIRY |
| Sat 28 Nov 2020 | Tue 1 Dec 2020 | Available | $465 | INQUIRY |
| Sun 29 Nov 2020 | Wed 2 Dec 2020 | Available | $465 | INQUIRY |
| Mon 30 Nov 2020 | Thu 3 Dec 2020 | Available | $465 | INQUIRY |
| Tue 1 Dec 2020 | Fri 4 Dec 2020 | Available | $465 | INQUIRY |
| Wed 2 Dec 2020 | Sat 5 Dec 2020 | Available | $465 | INQUIRY |
| Thu 3 Dec 2020 | Sun 6 Dec 2020 | Available | $465 | INQUIRY |
| Fri 4 Dec 2020 | Mon 7 Dec 2020 | Available | $465 | INQUIRY |
| Sat 5 Dec 2020 | Tue 8 Dec 2020 | Available | $465 | INQUIRY |
| Sun 6 Dec 2020 | Wed 9 Dec 2020 | Available | $465 | INQUIRY |
| Mon 7 Dec 2020 | Thu 10 Dec 2020 | Available | $465 | INQUIRY |
| Tue 8 Dec 2020 | Fri 11 Dec 2020 | Available | $465 | INQUIRY |
| Wed 9 Dec 2020 | Sat 12 Dec 2020 | Available | $465 | INQUIRY |
| Thu 10 Dec 2020 | Sun 13 Dec 2020 | Available | $465 | INQUIRY |
| Fri 11 Dec 2020 | Mon 14 Dec 2020 | Available | $465 | INQUIRY |
| Sat 12 Dec 2020 | Tue 15 Dec 2020 | Available | $465 | INQUIRY |
| Sun 13 Dec 2020 | Wed 16 Dec 2020 | Available | $465 | INQUIRY |
| Mon 14 Dec 2020 | Thu 17 Dec 2020 | Available | $465 | INQUIRY |
| Tue 15 Dec 2020 | Fri 18 Dec 2020 | Available | $465 | INQUIRY |
| Wed 16 Dec 2020 | Sat 19 Dec 2020 | Available | $465 | INQUIRY |
| Thu 17 Dec 2020 | Sun 20 Dec 2020 | Available | $465 | INQUIRY |
| Fri 18 Dec 2020 | Mon 21 Dec 2020 | Available | $465 | INQUIRY |
| Sat 19 Dec 2020 | Tue 22 Dec 2020 | Available | $465 | INQUIRY |
| Sun 20 Dec 2020 | Wed 23 Dec 2020 | Available | $465 | INQUIRY |
| Mon 21 Dec 2020 | Thu 24 Dec 2020 | Available | $465 | INQUIRY |
| Tue 22 Dec 2020 | Fri 25 Dec 2020 | Available | $465 | INQUIRY |
| Wed 23 Dec 2020 | Sat 26 Dec 2020 | Available | $465 | INQUIRY |
| Thu 24 Dec 2020 | Sun 27 Dec 2020 | Available | $465 | INQUIRY |
| Fri 25 Dec 2020 | Mon 28 Dec 2020 | Available | $465 | INQUIRY |
| Sat 26 Dec 2020 | Tue 29 Dec 2020 | Available | $465 | INQUIRY |
| Sun 27 Dec 2020 | Wed 30 Dec 2020 | Available | $465 | INQUIRY |
| Mon 28 Dec 2020 | Thu 31 Dec 2020 | Available | $465 | INQUIRY |
| Tue 29 Dec 2020 | Fri 1 Jan 2021 | Available | $465 | INQUIRY |
Cost per person: $465 USD
MAKING AN INQUIRY
Most tours are customized for private travel according to your preferences and dates. Click below to tell us what you're looking for:
Customize This Trip For Me