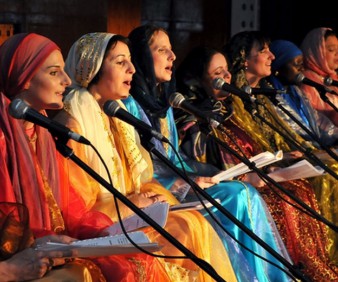 Fez Festival of the Sufi Culture 2023 package tour is not only the gift to identify a spiritual and artistic patrimony of exceptional wealth, but also to open the thought on what could be the benefit of this patrimony in the hearts of people today. Sufism can also inspire on a global level, some new approaches for concrete maneuvers of peace mediation, and for the development of mutual dialogue between faiths and cultures. Fez Festival of Sufi Culture can contribute as well as promote and diffuse throughout the world, particularly in a troubled era, the message of peace, universality, and spirituality registered in the heart of Islam. Join us in the spirit of sharing and contributing to the world of intellect and spirituality. Sufism is a purification of the heart and nourishment of the Soul. Travel to make a difference and enrich your self-growth with a small group Sufi Festival package tour to Morocco.
Sufism is the mystical side of Islam, an esoteric spiritual path of love and peace. Sufism's message of universality has crossed all borders. From the east as far as Malaysia, India, Persia, and Turkey east to Egypt, Morocco, and Andalusia west, Sufism is a source of inspiration for stoics, mystics, thinkers, poets, and a way of amelioration for disciples. This quest for divine love is the keyword of all time, Sufi orders seek to nourish themselves with this divine light through meditation, contemplation, and ecstasy. Rooted in all these parts of the world, Sufism, strong with its universality, is shaped in multiple spiritual, cultural, and artistic forms. (architecture, music, art, and way of life). The teachings of the Naqshabandi Order principally in the far East, the dervishes in Anatolia and Baltic Europe, the Qadiri and Shadhuli dominant in North Africa and the Middle East, the Tijani order in the heart of Africa, illustrate the cultural and spiritual richness of Sufism and the divine reality of Islam. Due to the teachings of spiritual masters, disciples of diverse Sufi paths have aspired to the Excellency of this behavior. From the early age of Sufism, we can document treaties of chivalry, notably in the case of artists, craftsmen, and thinkers who strive always to put to practice in the world, the teaching they received deep in their hearts.
It is said: "if the Middle East is the land of prophets, then the Maghreb is the land of Saints" Sufism in Morocco has existed as a way of life since the dawn of Islam. Sufism from Morocco's influence has traveled east to Egypt and the Middle East, north to Muslim Spain and Europe, south to the Sahara, and the heart of West Africa. Since the 9th century, renowned masters considered to be universal in spiritual teaching have taken their origin from Morocco. Mentioning, for example, some names of those who shaped the backbone in the body of Moroccan Sufism. Join us at this world Event for a spiritual gathering opening the Festival of Sufi Culture in the holy city of Fez. Our Sufi Cultural Tour Packages are designed for personalized small groups but can be tailored as a private tour.
DAY TO DAY ITINERARY
Oct 17: Arrive to Casablanca
Upon your arrival at Casablanca Airport, you will find our representative waiting for you to greet you and then transfer you to your hotel. We will gather after dinner for an orientation meeting and a brief introduction to Islamic Sufism in Morocco followed by a dhikr.
Oct 18: Travel to Fez visiting Moulay Idriss Zerhoune
After breakfast, you will travel to Fez, the spiritual capital of Morocco and the City of Islam as we call it. Your day will culminate with your arrival in Fez, traveling through the Roman capital of Northwestern Africa, Volubilis. In addition, you will pay a visit to Moulay Idris, a venerated citadel founded in the 8th century by Moulay Idris Al Akbar, grandson of the Prophet Mohamed (s.a.w.s). It is considered both the cradle of Sufism in Moroccan society, as well as the first Islamic capital for the premier Arab dynasty. Created primarily for the indigenous population, Moulay Idris has become a central destination for those who cannot afford to make the pilgrimage to Mekkah for the Hajj duty. It is also considered the birthplace of Sufism in Morocco. A spiritual visit will be scheduled exclusively for our group with the Mausoleum caregiver. Our daily Dhikr will be at Moulay Idriss Sanctuary followed by a (Duaa) prayer. Your day will conclude with sightseeing in Fez, including the ramparts, the gates, and the Borjes (Moorish Forts), and finally, a dinner at your hotel.
Oct 19: Fez Guided Tour
You will spend your day exploring the majestic city of Fez, beginning with visits to the historic and spiritual sites, the Sanctuaries of Sidi Abu Bakr ibn Arabi, Lalla Tajmakht, Sid Abdel Kader El Fassi. The remainder of your morning will be spent on a walking tour of the Medina, a walled city with a maze of medieval twisting alleys, blind turns, mosques, shrines, fountains, workshops, and numerous markets. You will break for lunch at a typical Moroccan Halal restaurant and will continue to explore and shop for the remainder of the afternoon, ending with dinner at your riad. Later you will be transferred to Shahrazad Palace for the festival's grand opening.
Oct 20: Sufism Conference
Festival activities are at Museum Dar Batha. With an evening Samaa with the Ensemble Ibn Arabi and Flamenco spiritual at Batha Museum. We will do a Sufi Dhikr as a group followed by a debriefing on the Sufi Conference later in our riad.
Oct 21: Fez Sufi Culture Activities
Festival activities are at the Medersa. Later in the day, we will all gather for an evening of Samaa and Dhikr with Boutshishya /and Shadhilia Sufi groups to share a spiritual night with them and enjoy their magnificent chants. Dinner and dhikr will be in our riad
Oct 22: Mount Zalagh Spiritual Activities
Your morning will be spent on an excursion to the Rif Mountains, where you will visit the Sidi Ahmed al Barnoussi shrine and enjoy a picnic lunch over the red poppy fields with local scribes and a typical couscous meal. The Jajouka musicians and dancers will enchant you with the haunting sounds of their haunting oboes and drums – a ceremony that you will treasure for the rest of your life. A local compound will host us for the afternoon dhikr overlooking the valley of Lamtaa olive groves. After lunch, you will return to Fez for the afternoon Festival activities, dinner, and evening events. Samaa and dance will be with Ouazzania Tarika.
Oct 23: Travel from Fez to Erfoud
You will spend your day en route to Marrakech, traveling through Azrou, across the middle Atlas Mountains, and pausing for lunch in Midelt before descending the foothills overlooking the magnificent oasis of Marrakech Alhamra, a city that captivates the imagination and provides satisfaction for every possible taste. Detours will include visits to Berber villages, scenic views, and traditional markets, and you will conclude your day with dinner at your Desert Camp. As we arrive at Chergui Hotel, we will leave our bus and hop on our land Cruisers to take on the desert dunes to our tented camp over the dunes of Merzouga. Camels will be ready for a sunset ride over the ocean of dunes. After our dinner, we will gather around a campfire for dhikr and share Sufi stories.
Oct 24: Merzouga Dunes - Rissani - Erfoud
We will wake up at dawn to enjoy a sunrise walk over the dunes for a while. A group dhikr and prayer will be after sunrise then return to camp for a sumptuous breakfast. Our land cruisers will take us to the holy city of Rissani to visit the Mausoleum of Moulay Ali Sharif, the library of Sheikh Naciri Manuscripts. We will gather for a group prayer. Dinner will be at Chergui hotel followed by an introduction to the Naciri Sufi Path teaching, then a comfortable night.
Oct 25: Erfoud to Ouarzazate
A day trip to explore the valley of the thousand Kasbah dramatic sceneries of the Megoun and Todra Berber settlements. Enjoy the Atlas Mountains and the lush valley groves. Dinner and accommodation will be in the hotel.
Oct 26: Travel to Marrakech
Early morning departure to Marrakech across the pass of Tichka. you will spend your afternoon exploring the majesties and wonders of Marrakech, including a visit to the historic sites. Dinner and accommodation will be in your hotel.
Oct 27: Spiritual Visit of Marrakech
The focus today will be on (Ziyarats) visits of the Seven Saints of Marrakech to learn more about the magnitude of Sufism in Morocco, especially in Marrakech. They will take place at the famous Jamaa el Fna square, and the afternoon will consist of a tour of the colorful souks (markets) of Marrakech. After a drink at sunset, overlooking the bustling Jamaa El Fna Square, you will conclude your day with dinner at a typical Moroccan restaurant. We will gather later for a farewell Sufi Dhikr praying for each one of our group participants. Reading from Hizb Al Bahr of Imam Shadhili.
Oct 28: Marrakech to Casablanca Airport
After breakfast, we will transfer you to the Airport in Casablanca for your next destination.
What is included:
Services of local guides
Breakfast, and dinner daily
Hotel taxes and service charges
Transportation in Deluxe vehicles
11 nights accommodation in 4-star hotels
Sufi gatherings and musicians
Festival concert tickets
Hotels Used:
Marrakesh: Hotel El Andalous, 2 nights
Ouarzazate: Hotel La Sultana Royal Golf, 1 night
Erfoud: Chergui Hotel, 2 nights
Fez: Riad Ghita, 5 nights
Casablanca: Hotel Kenzi Basma, 1 night
| DEPARTING | FINISHING | SEATS | TOTAL IN USD | |
| --- | --- | --- | --- | --- |
Cost per person: $2285 USD
Single supplement: $465 USD
MAKING AN INQUIRY
Most tours are customized for private travel according to your preferences and dates. Click below to tell us what you're searching for:
Customized Tours